BYRON XIDES - OF COUNSEL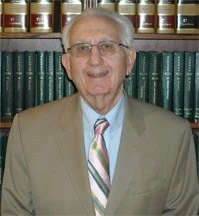 Byron D. Xides
Pittsburgh, Pennsylvania – Of Counsel
Phone (412) 471-4128
Fax (412) 471-4145
Email: bdxwxflaw.com
BACKGROUND
Byron D. Xides has been a member of the Pennsylvania Bar since 1958. In a legal career of over 50 years, he has established an excellent reputation as a trial attorney and advisor to both personal and business clients. Mr. Xides has spent his entire legal career with the firm now known as Weisel, Xides & Foerster, LLP. He is admitted to practice in state and Federal courts throughout Pennsylvania.
ESTABLISHING THE FIRM
Mr. Xides graduated from the University of Pittsburgh Law School in 1957. After graduation, Mr. Xides began practicing law with the late Clifford Weisel and William Johnstone in the firm of Weisel and Johnstone in Pittsburgh's Law and Finance Building. Mr. Xides then became a partner, and the firm became known as Weisel, Johnstone and Xides. Following Mr. Johnstone's death, the name changed to Weisel and Xides. The firm developed an excellent reputation in a wide variety of legal fields including business law, wills and estates, civil litigation and family law.
PUBLIC AND PRIVATE PRACTICE
Mr. Xides became an Assistant Allegheny County Solicitor in 1986. He is one of a select group of attorneys who represents Allegheny County, the second largest county in Pennsylvania, in its legal affairs. Byron's work for the County has included representation in tax sales, assessment appeals, tax lien issues, property disputes and other matters. Byron has continued to maintain his private practice and its excellent reputation while working for the County,
PERSONAL
Mr. Xides served with the United States Army during the Korean War period (1951 to 1953). He married the former Rose Hernandez, who died in 2003. He has two sons, David and Jason. He has been active in community affairs, and is the former President of the White Oak-McKeesport Area Rotary Club. He is the uncle of Robert Xides, a partner with Weisel, Xides & Foerster.
AREAS OF PRACTICE
Municipal Law
Wills and Estates
Civil Litigation
BAR ADMISSIONS
Pennsylvania, 1958
U.S. Federal Courts, 1958
EDUCATION
University of Pittsburgh School of Law
L.L.B. 1957
University of Pittsburgh
Pittsburgh, Pennsylvania
B.S.1951
PROFESSIONAL ASSOCIATIONS AND MEMBERSHIPS
Member of the Allegheny County Bar Association (ACBA)
Member of Probate and Trust Law Section of the ACBA
Member of Municipal & School Solicitors Section of the ACBA
Past President of McKeesport – White Oak Area Rotary Club